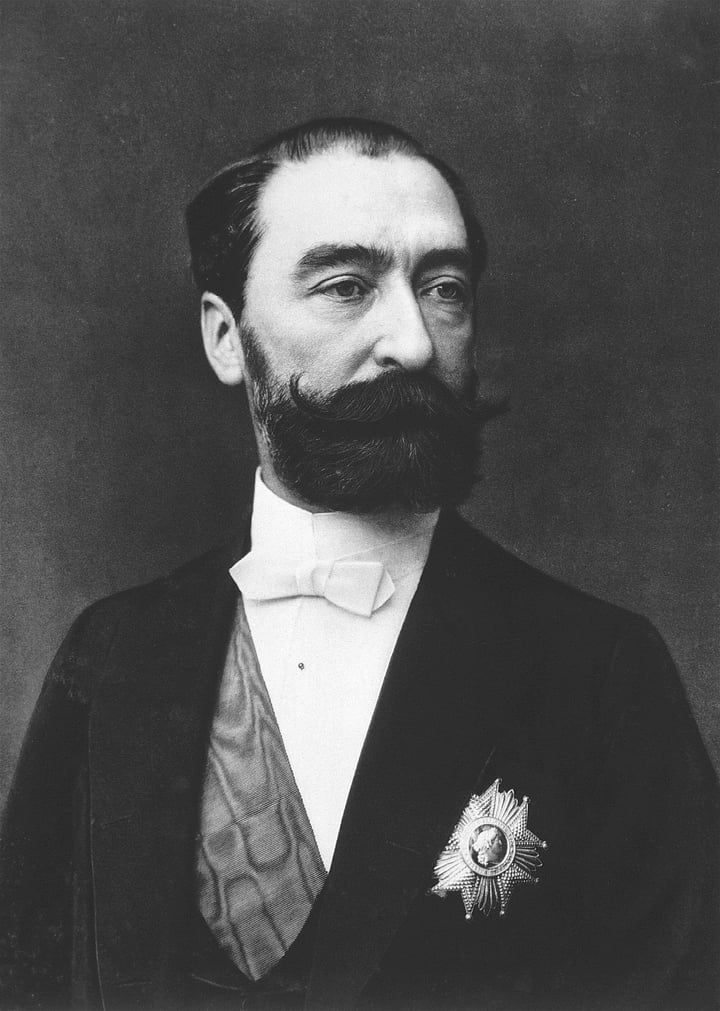 11 August 1837
Marie-François-Sadi Carnot was born in Limoges. He was the son of a lawyer and politician and grandson of Lazare Carnot.
1857
He graduated from the École Polytechnique at the top of his class and entered the École des Ponts et Chaussées.
2 June 1863
He married Cécile Dupont-White. Appointed engineer in Annecy, he supervised a number of projects, including the Bridge of Collonges (Haute-Savoie) starting in 1869.
10 October 1870
He went to Tours with the National Defence Delegation.
10 January 1871
He was appointed Special Commissioner for Lower Normandy.
7 February 1871
He retired out of loyalty to Gambetta.
24 February 1871
He was elected Moderate Republican Deputy for Côte-d'Or.
May 1871
He served as Secretary of the Gauche Républicaine.
31 August 1871
The Rivet-Vitet laws enshrined the constituting nature of the National Assembly and recognized the Republic as a legal regime.
24 May 1873
Marshal Mac-Mahon was elected President of the Republic.
1876
Sadi Carnot was elected Deputy of the second constituency of Beaune (February) then Secretary of the Chamber of Deputies (March). He became a member of the Budget Committee.
October 1877
Re-elected Deputy, member of the Budget Committee, he served on the Côte-d'Or Departmental Council
26 August 1878
He was Under-Secretary of State for Public Works (Minister Charles de Freycinet, Prime Minister Armand Dufaure). He was kept on in this position by the Waddington and Freycinet Governments.
23 September 1880
He served as Minister of Public Works in the Jules Ferry Government.
17 December 1880
As Minister, he made a pact of trust with the Parliament regarding railways.
February 1881
Negotiations began with the large railway companies.
August 1881
He was re-elected Deputy.
2 November 1881
The Carnot circular on railway tariffs was published.
14 November 1881
Gambetta replaced Jules Ferry.
5 May 1882
He became President of the recently created Union Démocratique.
1883
He was Chair of the Budget Committee, Chair of the Waterways Committee and Vice-President of the Chamber of Deputies. Agreements were concluded with the large railway companies.
Re-elected President of the Union Démocratique, he supported Jules Ferry, Prime Minster since February.
April 1885
First Minister of Public Works, Sadi Carnot became Minister of Finance in the Brisson Government. He had difficulty keeping his seat as Deputy for the Department of Côte d'Or.
28 December 1885
Jules Grévy was re-elected President of the Union Démocratique.
7 January 1886
Following the fall of the Brisson Government, Sadi Carnot was kept on as Minister of Finance by Charles de Freycinet.
November-December 1887
The "Decorations Scandal" caused the resignation of President Jules Grévy.
3 December 1887
Sadi Carnot was elected President of the Republic after Jules Ferry withdrew his candidacy. His term-of-office was marked by the Boulanger Affair, the start of anarchist attacks and the Panama Scandal. At the Élysée Palace, Sadi Carnot had the Salle des Fêtes built. On 12 December, he appointed Pierre Tirard Prime Minister.
14 July 1888
He gave a speech on the Champs de Mars for the banquet of mayors of the county towns of cantons.
He travelled across France: to the Southwest (25 April-1 May 1888), Savoie and Dauphiné (18-23 July 1888), Normandy (10-15 September 1888), the Rhône, Haute-Savoie and the Côte-d'Or (6-11 October 1888), Pas-de-Calais (3 May-4 June 1889), the Var, Bouches-du-Rhône, Corsica, Alpes-Maritimes and Hautes-Alpes (16-27 April 1890), the Drôme, Vaucluse, Gard, Hérault, Doubs, Haute-Saône, Haute-Marne, Aube and Belfort (21-23 May 1890), Charente-Inférieure (18-20 August 1890), Orléans (7 May 1891), Haute-Vienne, Tarn-et-Garonne, Haute-Garonne, Hautes-Pyrénées, Basses-Pyrénées and Landes (17-25 May 1891), attended major operations in the Department of Marne (16-19 September 1891), Meuse (5-7 June 1892), Savoie (3-5 September 1892), Vienne (15-17 September 1892), and Lille (8 October 1892).
23-24 June 1894
During a visit to Lyon, President Sadi Carnot was assassinated by Jeronimo Caserio, an Italian anarchist.
1 July 1894
After the state funeral at Notre Dame, Sadi Carnot was put to rest in the Pantheon.
Updated : 15 December 2022