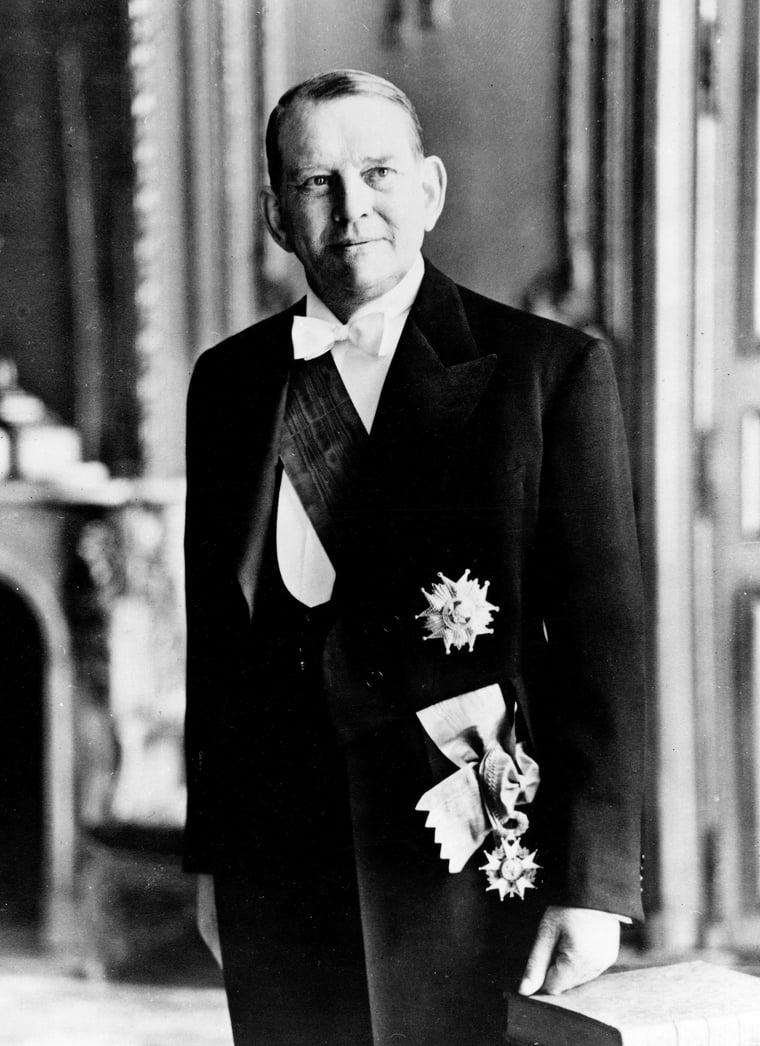 20 March 1882
René Coty, son of a middle school principal and moderate Republican, was born in Le Havre.
1899
He was awarded a dual baccalaureate in Sciences and the Arts.
1899-1902
He was awarded a degree in Law and a degree in Arts and Philosophy from the University of Caen.
1900
He was exempt from military service because he was under the weight requirement.
He represented a students' association from Caen at the International Congress of Paris.
Spring 1902
He participated in the election campaign of Jules Siegfried, Deputy Mayor of Le Havre.
1902
He took the French attorney's oath and became a member of the Le Havre Bar (and remained a member until 1932). He was President of the Bar twice.
21 May 1907
He married Germaine Corblet, daughter of a shipowner in Le Havre, and had two daughters, Geneviève (born in 1908) and Anne-Marie (born in 1910).
1908-1919
He was a Le Havre Municipal Councillor on the Union du Comité Républicain du Bloc des Gauches list.
1909
He was President of the Le Havre Group of the Ligue de l'Enseignement and the Secretary-General of the Grand Cercle Républicain.
1910
He was the lawyer of Jules Durand, a union member implicated in the killing of a non-striking worker.
August 1913-1942
He was the Seine-Inférieure Departmental Councillor.
August 1914-1918
He voluntarily joined the armed forces and fought in the Battle of Verdun.
December 1919
He lost the municipal elections and never ran in municipal elections again.
June 1923-1 January 1936
He succeeded Jules Siegfried as Deputy. He joined the Union Républicaine.
13-23 December 1930
He served as Under-Secretary of State for the Interior.
1932
He opened a legal counsel firm in Paris and became a member of the Groupe des Républicains de Gauche.
1 January 1936-1940
He was a Senator.
10 July 1940
He voted in favour of granting full powers to Marshal Pétain.
1941-September 1943
He retired from public life.
September 1944-October 1945
He was declared ineligible because of the way he voted on 10 July 1940. A Jury d'Honneur made him eligible again on 11 October 1945.
21 October 1945-10 November 1943
He was re-elected as a Deputy in the two Constituent Assemblies. He joined the Parti des Républicains Indépendants.
10 November 1946
He was re-elected Deputy for the Department of Seine-Inférieure.
24 November 1947-10 September 1948
He served as Minister of Reconstruction and Urban Affairs.
November 1948
He was re-elected Senator.
3 July 1949
He became President of the European Parliamentary Union.
1952
He was re-elected Senator.
23 December 1953
He was elected President of the Republic and the French Union, on the 13th ballot, at the age of 72.
16 January 1954
President Vincent Auriol carried out the transfer of powers.
René Coty was inaugurated.
12 November 1955
Germaine Coty died at the Château de Rambouillet.
29 May 1958
In a message to Parliament, he appealed to General de Gaulle, who agreed the same evening to establish a Government.
4 October 1958
The Constitution of the Fifth Republic was promulgated.
8 January 1959
Powers were transferred to General de Gaulle.
22 November 1962
René Coty died in Le Havre.
Updated the : 15 December 2022