The G7 Summit has just ended. Emmanuel Macron wanted this event to be useful. It was – it produced real results. Which decisions were made? Which tangible actions were launched? Find out more here.
A plan for the Amazon wildfires
The scope of the Amazon wildfires is growing over time. This was a priority topic at the Summit. A plan for the Amazon, which contained two key measures to stop this catastrophe, was announced:
Emergency assistance, with immediate financing to stop wildfires;
A medium-term reforestation plan.
A potential initiative to fight fires in sub-Saharan Africa
Emmanuel Macron also addressed the forest fires currently ravaging a number of countries in sub-Saharan Africa. The possibility of launching an initiative similar to that announced for the Amazon is currently being considered.
Protection for victims of sexual violence
To support the physical and psychological recovery of women who have suffered conflict-related sexual violence, an international fund was launched by Nobel Peace Prize winners Denis Mukwege and Nadia Murad. The G7 States undertook to make financial contributions to this fund.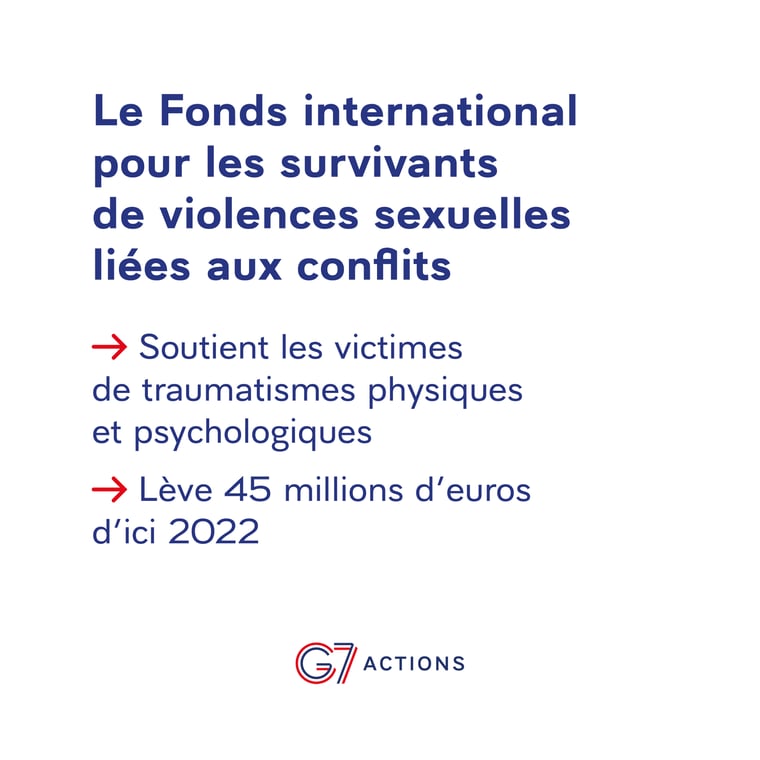 Support for women's rights
More than 2.5 billion women around the world are affected by discriminatory laws and the absence of legal protection. The goal of the Biarritz Partnership, signed by G7 Member States, is the top-down harmonization of women's rights.
Economic growth that benefits all
Businesses play an essential role in reducing inequality. The Business for Inclusive Growth (B4IG) coalition, launched at the G7 Summit, aims to finance inclusive projects.
Women's empowerment
Women are the driving force behind entrepreneurship in Africa. However, this activity is hindered by women's difficulty in obtaining financing. AFAWA, an initiative making it easier for women to obtain credit, was launched at the G7 Summit.
Protection of the biodiversity that our lives depend on
Just a few months ago, the IPBES raised the alarm: up to 1 million species are currently facing extinction due to human activity on Earth. To help prevent a sixth mass extinction, the Charter on Biodiversity was signed at the G7.
Action to limit climate change
If the cooling sector takes action today, up to 1°C of global warming could be prevented. At the G7 Summit in Biarritz, a coalition was launched to improve the industry's energy efficiency and eliminate HFCs, which are 14,800 times more damaging than CO2.
The fashion industry pollutes more than the aviation and maritime transport sectors combined
The fashion industry is second only to the petrol industry in terms of pollution. Making a pair of jeans requires 11,000 litres of water – the equivalent of 285 showers. The goal of the Fashion Pact, launched during the G7 Summit, is to make the fashion industry more sustainable.