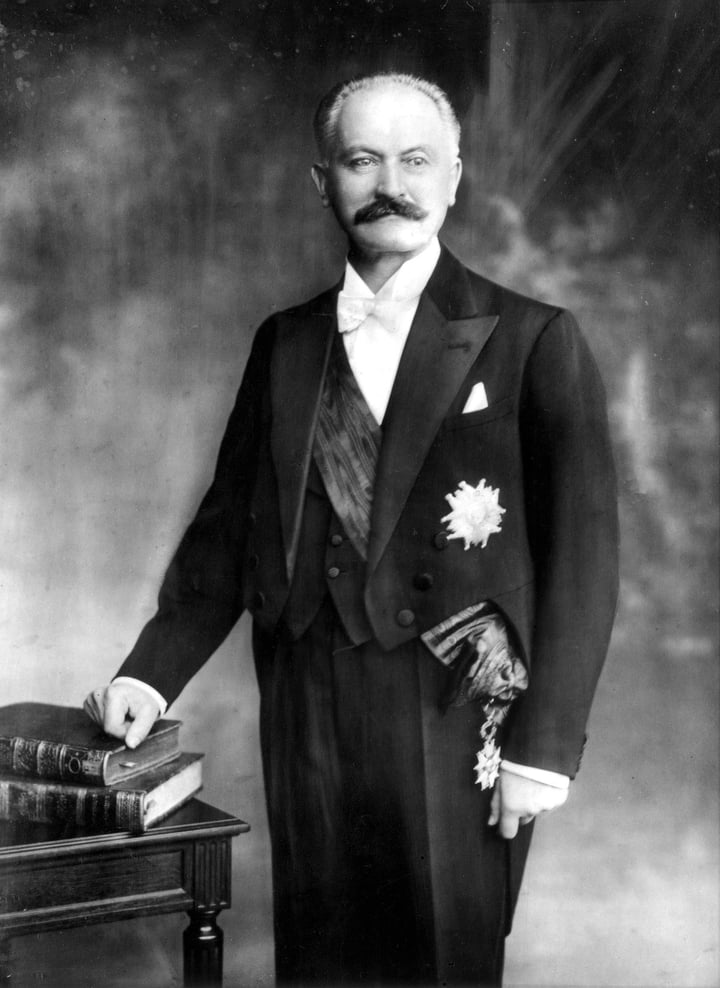 29 August 1871
Albert François Lebrun was born in Mercy-le-Haut (Department of Meurthe-et-Moselle).
After graduating at the top of his class from the prestigious École Polytechnique and École Nationale Supérieure des Mines, he became a Corps de Mines engineer in Vesoul, then Nancy.
1898
He served as a Meurthe-et-Moselle Departmental Councillor for the Audun-le-Roman District.
1900
He was elected Deputy for Briey and re-elected to serve from 1902 to 1919.
1902
He married Marguerite Nivoit.
1906-1932
He was elected President of the Meurthe-et-Moselle Departmental Council and held this position until he was elected President of the Republic.
1911 - 1914
He served as Minister of the Colonies, and briefly, Minister of War (January 1913).
1914
He was an artillery officer in Verdun.
23 November 1917-6 November 1919
He served as Minister of the Blockade and Liberated Regions in the Clemenceau Government.
1920
He served as Senator for the Department of Meurthe-et-Moselle.
1922-1924
He was France's delegate to the Society of Nations.
1923
He was President of the Academy of Colonial Sciences.
1926-1931
He was Vice-President of the Senate and President of the Caisse Autonome d'Amortissement.
1931-1932
He was President of the Senate.
10 May 1932
He was elected President of the Republic.
Except for a return of Gaston Doumergue in 1934 and the choice of Léon Blum in 1936, Albert Lebrun did not intervene much in governmental affairs. His seven-year term was marked by considerable ministerial instability (17 Council Presidents from 1932 to 1940). He visited several cities and countries, including Yugoslavia (17-18 October 1934), Brussels (26 August 1935) and the United Kingdom (27-29 January 1936 and 24-26 March 1939).
6 February 1934
After the riot, Albert Lebrun asked Gaston Doumergue, former President of the Republic, to return as head of Government to form a Government of National Unity.
April 1936
The Front Populaire won the general election.
June 1936
Léon Blum became Prime Minister in June and led the first predominantly Socialist Government of the Third Republic.
Under this Government, social measures were adopted regarding salaries, union rights, collective agreements, work duration, paid holiday and leave.
5 April 1939
Albert Lebrun was re-elected President of the Republic.
3 August 1939
President visited the Grand Duchy of Luxembourg.
3 September 1939
France declared war with Germany.
16 June 1940
Albert Lebrun appointed Philippe Pétain Prime Minister, after the resignation of Paul Reynaud, who was hostile to the armistice. He retreated with the Government to Tours (he resided in the Château de Cangé), Bordeaux then Vichy.
10 July 1940
Without resigning, Albert Lebrun ceded power to Pétain and left for Vizille (Isère).
27 August 1943
Arrested by the Gestapo, Albert Lebrun was deported to Germany to the Château d'Itter, in Tyrol.
11 October 1944
He was received by General de Gaulle, who asked to see him.
25 April 1945
He testified at Pétain's and Laval's trials.
6 March 1950
Albert Lebrun died in Paris.
A national funeral was held at Notre-Dame-de-Paris.
Updated : 15 December 2022