On 26 September 2017, French President Emmanuel Macron presented his initiative for a sovereign, united and democratic Europe at the Sorbonne University. On 4 March 2019, he made new proposals for a "European Renaissance", addressed at all European citizens. This section looks back at the progress made on various European projects.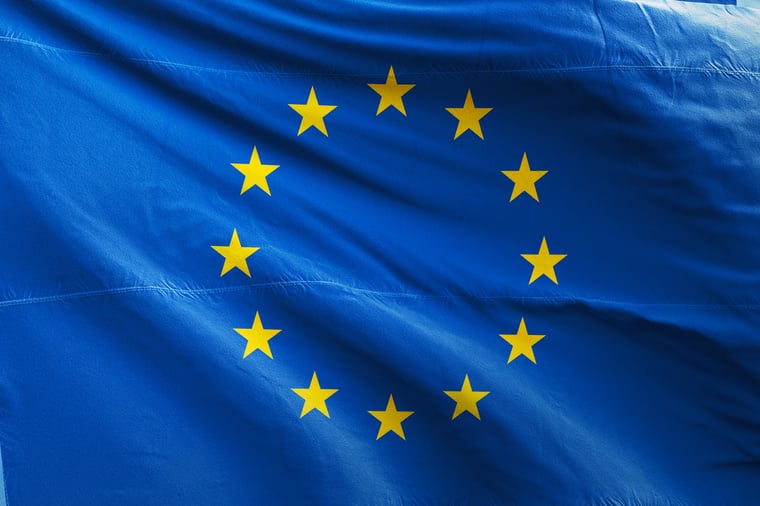 A Europe that protects
Common defence budget
With the launch of a European Defence Fund, which is now operational, the EU invested €500 million in 2019 and 2020, and will invest approximately €10 billion in the 2021- 2027 period, in research projects in the field of defence and industrial development of defence technologies.
European Intervention Initiative (E2I)
On 25 June 2018, nine States, including France, Germany, the United Kingdom and Spain, launched the European Intervention Initiative with the aim of building a common strategic culture among its members. Finland, Sweden, Norway and Italy have since joined. The E2I aims to facilitate the sharing of preparedness work and planning habits, experience in operations and joint deployments with our main partners.
Intelligence College in Europe
With a view to creating a culture of shared intelligence among Member States, the Intelligence College in Europe aims to provide awareness to European and national institutions on the importance of intelligence. The first training session was held in Paris on 4 and 5 March 2019. 22 European States took part and met in Zagreb on 26 February 2020.
Fighting terrorist propaganda
In September 2018, the Commission proposed new legislation to fight against illegal online content, in particular terrorist propaganda. It would force digital platforms to remove this type of content within an hour of its publication. It is a priority for new institutions, that wish to see the text finally adopted in 2020.
European Civil Protection Pool
A European civil protection pool, which is supported by a number of joint capabilities financed by the EU, has been fully operational since summer 2019 – Greece called on it in 2019 to help fight forest fires – and has been strengthened ahead of the forest fires season in 2020. A reserve fleet of 13 firefighting planes and 6 helicopters are available to help Member States in the event of an emergency. This reserve has now been expanded to provide European countries with masks and essential equipment to combat public health crises.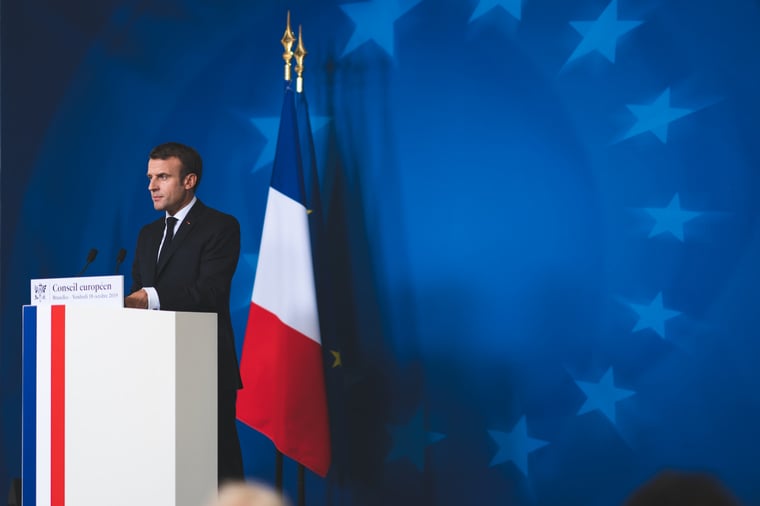 A Europe that addresses the migration challenge
Gradual roll-out of border police
The Commission set out a proposal to strengthen the capabilities of the European Border and Coast Guard Agency (Frontex) in order to enable it to create a permanent body of 10,000 EU border guards and to give it more power to return illegal immigrants to their countries of origin. This new legislation entered into force on 4 December 2019.
An exemplary Europe regarding sustainable development
A more transparent and independent European scientific assessment
With lessons learnt from the debates on the assessment of glyphosate, in early 2018 a review of the health and food safety assessment was put forward to ensure greater transparency and to make expertise more independent. This negotiation led to a reform – which should be expanded – which provides for: greater transparency in assessments; greater independence in scientific expertise; strengthened governance of the European Food Safety Authority (EFSA) through internal representation of Member States, the European Parliament and civil society.
A European Climate Bank
The ecological transition must also be a driver for growth in our economies and receive additional investment.
The creation of a European Climate Bank would help raise new funds, both public and private, that would commensurate with the challenges posed by the ecological transition. In November 2019, the European Investment Bank decided to ensure all its activities would be compatible with the Paris Agreement from the end of 2020 and to put an end to project financing in the fossil fuel industry beginning in 2021.
It will increase the share of financing dedicated to the ecological transition to reach 50% of its operations starting in 2025, thereby mobilizing €1,000 billion in investments for the ecological transition in the 2021-2030 period, which are necessary if we are to achieve carbon neutrality in 2050.
A Europe standing as an economic power
A European budget that helps stabilize the European economy confronted with the COVID-19 crisis
Based on the Franco-German initiative of 18 May 2020, the Commission made an unprecedented proposal to issue common debt on the markets to finance €500 billion in subsidies and €250 billion in loans for Member States. With this recovery fund, the EU is availing of economic stabilization resources like never before to provide an inclusive response to the COVID-19 crisis. The additional funds will help speed up the ecological and digital transitions and strengthen the EU's action in industry and health sectors.
Enable fair competition
The President of the European Commission announced several measures to protect European companies from unfair competition. The position of Chief Trade Enforcement Officer was created to monitor and ensure compliance with trade commitments made by our partners, in particular concerning the environment and labour law. With the White Paper on foreign subsidies within the Single Market published on 17 June 2020, the Commission proposed reviewing European competition rules to better factor in and correct distortive competition linked to certain non-European businesses receiving subsidies from their States.
Digital tax
Discussions to put an end to the undertaxation of major digital firms are underway at the OECD, and five EU Member States have already planned to introduce a tax in their countries. The European Commission is committed to actively supporting the efforts to reach a consensus at the OECD, and if no agreement emerges, to propose a Europe-wide tax.
Monitoring strategic investments
For the first time, a European screening system for investments coming from a third country in strategic sectors will enter into force in October 2020, in order to strengthen European economic sovereignty.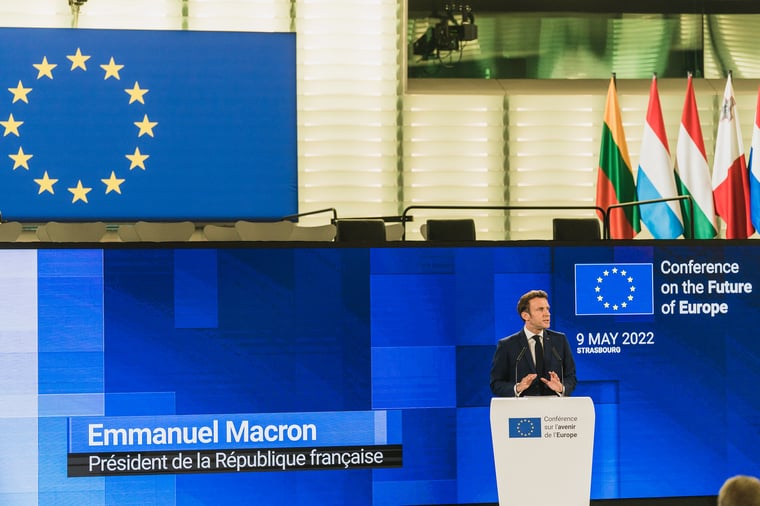 A Europe of social equity
Regulating work postings
With the revision of the posted workers directive, which will enter into force in July 2020, we made progress in three main areas: limiting the duration of postings to 12 months (long-term postings are contrary to the spirit of postings and are a source of fraud), applying the "equal pay for equal work at the same workplace" principle and strengthening anti-fraud tools. A European Labour Authority was created in June 2019 to ensure the new rules are respected.
A decent minimum wage in all Member States
The President of the Republic proposed creating a "social shield" to ensure equal pay at the same workplace and a minimum wage suited to each country. In early 2020, the European Commission launched consultations with the European social partners with a view to presenting a proposal that ensures that each worker within the European Union is entitled to an equitable minimum wage.
A Europe of Culture and Education
European universities
Following the speech at the Sorbonne, the European Union set an objective to create at least 20 European universities by 2024 to enable academic institutions to forge close partnerships for student mobility and excellence in education, research and innovation. The first call for projects issued by the European Commission made it possible to finance the 17 first European universities (in which 16 French universities are participating) from 2019 onwards. The Government has planned additional financing to further develop these projects. A second call for projects, issued in November 2019, selected 24 new European universities (in which 16 other French universities are taking part).
Copyright
The directive on the reform of copyright rules entered into force on 7 June 2019. It includes two fundamental advances: it creates a related right to copyright for publishers and press agencies, which will allow better remuneration for news publishers; and places more responsibility on platforms to ensure fair sharing of value from the publishing of works online, to benefit creators.
A Europe of Innovation
European Innovation Agency
A pilot project was launched for the 2019-2020 period to finance breakthrough innovation. A European Innovation Council will be created in the next multi-year budget to sustain and strengthen this financing.
An ambitious space policy
The European Union is gradually furthering its space policy by acquiring tools that will enable it to establish a policy on independent access to space (support for launch infrastructures; support for research and innovation) and to consolidate its strategic independence. In their Declaration of Toulouse in October 2019, France and Germany officially declared their support for a "European preference" for satellite launches (Ariane 6).
A pact between Europe and Africa that looks to the future
A Europe that looks to the future must work with Africa: a "pact for the future" at the European level should support Africa's development ambitiously, by supporting private sector investment, jointly fighting against climate change, multiplying university partnerships and supporting education for young girls. In March 2020, the European Commission presented a strategy for a partnership with Africa ahead of the European Union-African Union summit in 2020.
A democratic Europe
Public consultations
In 2018, the Member States organized public consultations and the European Commission launched an online consultation based on a questionnaire drawn up by a panel of European citizens. The European summary of the consultations was discussed at the European Council in December 2018 and helped identify the priorities for the new European Parliament and the new European Commission.
Transnational lists in European elections
In the Meseberg declaration, Germany supported the creation of transnational lists for the 2024 European elections, which was also encouraged by the Heads of State and Government at the European Summit in February 2018. The Conference on the Future of Europe (see below) will provide an opportunity to look back on the topic ahead of the 2024 European elections.
Conference on the Future of Europe
A Conference on the Future of Europe, proposed by the President of the French Republic and the President of the European Commission, will meet regularly beginning in autumn 2020 and for a year and a half, and will include citizen panels, to reflect on the democratic functioning of the EU and how to strengthen Europe's sovereignty in the EU's major policies. It should produce tangible results for the French Presidency of the European Union in the first semester of 2022.
Une Europe démocratique
Conférence sur l'avenir de l'Europe
« Alors d'ici la fin de l'année, avec les représentants des institutions européennes et des Etats, mettons en place une Conférence pour l'Europe afin de proposer tous les changements nécessaires à notre projet politique, sans tabou. »
➜ Organisation d'une Conférence sur l'avenir de l'Europe, ayant recueilli les contributions de 5 millions de visiteurs de la plateforme en ligne et de 700 000 Européens ayant pris part aux débats citoyens organisés dans chaque région de l'Union.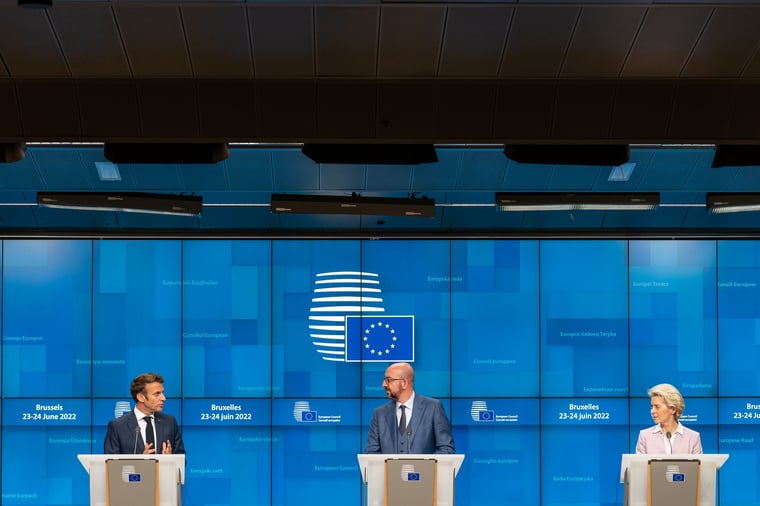 De nouveaux terrains de souveraineté
Construction d'une Europe de la Santé
➜ L'Europe est devenue le continent produisant le plus de vaccins à technologie ARN messager au monde.
➜ Elle a contribué à la solidarité internationale, en livrant près de 480 millions de doses à plus de 130 pays et en s'engageant à partager 700 millions de doses d'ici la fin d'année.
➜ Création en cours d'une nouvelle autorité européenne de préparation et de réaction en cas d'urgence sanitaire, l'HERA.
See all the articles regarding Europe :