"It is up to us, to you, to map out the route which ensures our future, the one I wish to talk to you about today. The route of rebuilding a sovereign, united and democratic Europe. Let us together have the audacity to create this route. "

The President of the French Republic Emmanuel Macron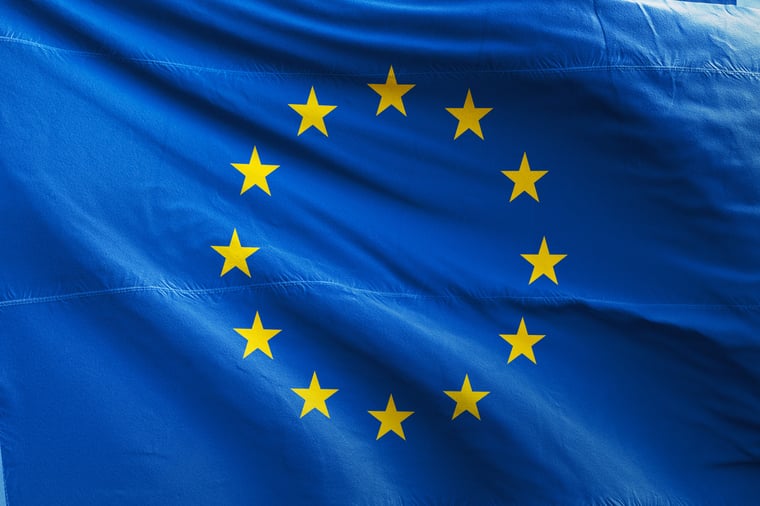 A Europe that protects
Defence
"What Europe, Defence Europe, lacks most today is a common strategic culture. "
Since 2017:
Creation of the first joint military budget for defence, made up of €8 million.
Creation of the European Intervention Initiative, in which 13 Member States participate, to create a common strategic culture.
Development, with Germany and Spain, of the Future Combat Air System and the Future Tank Combat System.
Experience of European cooperation within the Takuba Task Force to fight terrorist groups in the Sahel region.
Common ambition shown in Versailles in March 2022 to strengthen our industrial defence base.
Adoption of the Strategic Compass, establishing our common doctrine.
Support for the Ukrainian army with the deployment of an unprecedented total of €2.5 billion in European Union military aid.
Fighting terrorist propaganda
"We need to step up the work underway to combat […] and terrorist propaganda online. We need to enhance our cyber security and create a common area of security and justice. "
Since 2017:
New European legislation makes it compulsory to withdraw any terrorist content within an hour from the time it is reported.
European Civil Protection Pool
"I want us to create a European Civil Protection Force, pooling our resources for rescue and intervention, thus enabling us to respond to disasters. "
Creation of a European civil protection pool, which has been fully operational since summer 2019. Greece called on it in 2021 to help fight forest fires and Croatia in 2020 to help cope with the aftermath of the December 2020 earthquake. France has used this mechanism to help fight forest fires in summer 2022.
Creation of a European capacity to finance and procure equipment, RescEU, to help Member States address transport and logistical emergencies.
A Euro-African partnership to tackle common challenges
"I would like our partnership with Africa to be an aspect of the overhaul of the European project. "
Since 2017:
European Union-African Union Summit organized under the Presidency of the Council of the European Union.
Partnerships launched to phase out coal within the framework of just energy transitions; and for the production of plant proteins.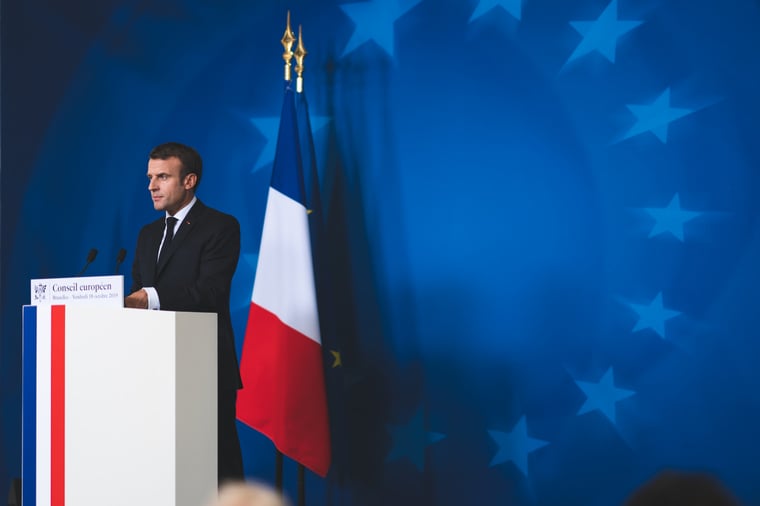 An exemplary Europe regarding sustainable development
Ecological transition
"Today Europe is in a period in between but our choice is simple: do we want to continue producing as we have in the past […] or do we wish to push forward and become leaders of a new production model that will not only be a model for the economy, but also a model for society. "
Since 2017:
Adoption of carbon neutrality objectives by 2050 and reduction in greenhouse gas emissions by at least 55%*, by 2030, compared to 1990 levels.
Transformation of the European Investment Bank into a European Climate Bank, with a green investment plan of €1,000 billion for 2021-2030.
30% of the European budget for 2021-2027 will be dedicated to the climate and environmental sustainability.
Agreement between Member States to create a carbon tax at EU borders on foreign products.
Food security and nutrition
"Science must provide information on the dangers but also independently and transparently indicate scientifically proven alternatives. "
Since 2017:
Reform of the European Food Safety Authority: transparency and independence of scientific studies, governance reform, with a representation of civil society within it.
A Europe of innovation
European Breakthrough Innovation Agency
Europe […] must take the lead in this revolution through radical innovation. Throughout Europe, we must do everything in our power to have these digital champions, to attract talented scientists and entrepreneurs. "
Since 2017:
Creation of a European Innovation Council, with €10 billion, to drive the emergence of future European champions.
There are now 27 French unicorns and we aim for 100 more by 2030; and 10 European giants worth more than €100 billion.
An ambitious space policy
"Sovereignty is industrial and monetary economic power. Making the heart of Europe an economic and industrial power, […] also means having an ambitious space policy and consolidating a competitive European industry on a global scale.
Since 2017:
Defence of independent access to space for Europe, with a €15 billion budget and a "European preference" for launchers.
The European Union will equip itself with a constellation of independent connectivity.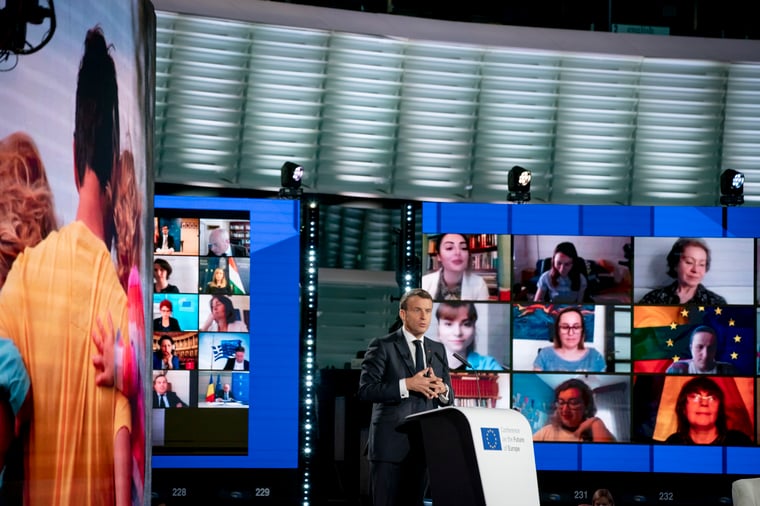 A Europe of social equity
Posted workers
"Europe is currently no protection from social dumping, and we have allowed a European market to develop that runs contrary to our labour market's very philosophy of unity. "
Since 2017:
Review posting and introduction of the "equal work, equal pay" principle across the European Union.
Creation of the European Labour Authority.
Minimum wage
"We should establish a minimum wage that takes into account the economic realities of each country. "
Since 2017:
Adoption under the French Presidency of the Council of the European Union of unprecedented legislation on minimum wages in Europe, which sets out shared principles and criteria to establish a decent minimum wage in each Member State.
Gender equality
Introduction of quotas on European corporate boards of administration.
A Europe that addresses the migration challenge
Borders
"We have only one choice, one alternative: closing in behind our borders or the construction of a common area for border management, asylum and migration. "
Recruitment of 10,000 European border guards by 2027.
Reform of the European Union Agency for Asylum to drive the convergence of Member States' asylum systems.
More consistent and effective steering of our shared borders, with the creation of a Council of Ministers of the Schengen Area.
Introduction of a solidarity mechanism with countries of first entry to respond to the migration challenge and deal with our asylum culture effectively.
A Europe of culture and education
Universities
"We should establish a minimum wage that takes into account the economic realities of each country. "
Since 2017:
44 European universities were launched in 2019.
37 French school are involved.
Erasmus
"In 2024, half of students in a given age group should have spent at least six months in another European country by the time they are 25. whether they are university students or learning a trade. "
Since 2017:
Doubling of European budget for Erasmus.
Launch of the ALMA programme for young people without degrees, without a job and without training, who are not eligible for Erasmus.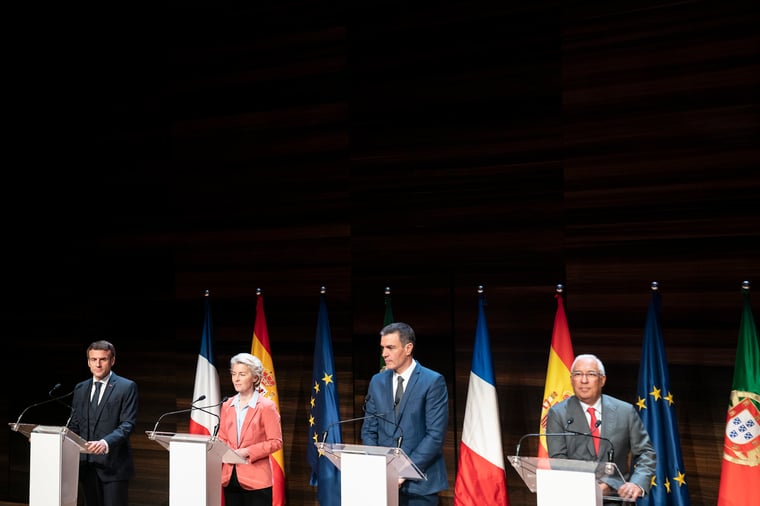 A democratic Europe
Conference on the Future of Europe
"By the end of the year, with representatives of European institutions and States, let's hold a Conference for Europe where we can put forward all the changes needed for our political project, without taboos. "
Organization of a Conference on the Future of Europe, having raised contributions from 5 million visitors on the online platform and 700,000 European having taken part in the Town Hall meetings held in each region of the European Union.